Wilt Thou Be Mine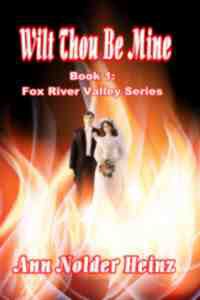 Nora Hartmann has recovered from her husband's untimely death, and happiness is once more within her grasp. Her troubled teenaged daughter, the source of recent anxiety and conflict, is away visiting relatives. Her interest in the small shop where she designs and sells wooden toys has rekindled. She is on the brink of a satisfying new relationship with a widowed school teacher. Only one problem remains: Rudy Schmidt.
Rudy, a neighbor and former friend, has become infatuated with Nora and imagines the two of them are destined to be together. The more she tries to discourage him, the more persistent and bizarre his behavior becomes. He slashes her tires, breaks into her house, and stalks her every move, masking his activities so cleverly that the authorities discount Nora's accusations. Most disturbing of all, Nora's daughter returns home only to succumb to Rudy's charm and become his most ardent advocate.
As Nora's fears escalate, Rudy seems invincible. He murders his wife, who is Nora's closest friend, and convinces the police it was an accident. He strangles a former mistress in a fit of pique and slips away undetected. He poisons Nora's new lover. Maddeningly, only she recognizes what a dangerous predator he has become.
Frantic, Nora takes precautions to insure the safety of her loved ones. Her efforts are in vain. Ultimately, nothing can protect her from the terror of Rudy's final descent into madness. His damaged mind reasons that since he cannot possess her in this life, he will settle for the eternal bonds of the next. He sets his trap, using Nora's daughter as bait. Cornered, Nora must summon an arsenal of ingenuity, courage, and fierce resolve to fight for her own life and that of her child.

Click here to read an excerpt from Wilt Thou Be Mine

Wilt Thou Be Mine is now available for purchase in electronic and print format at Amazon and Barnes & Noble.